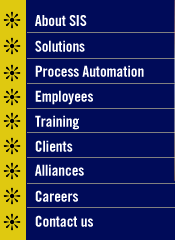 • Recruit and hire the best individuals available.

• Encourage and support a diverse atmosphere where the employees feel valued and recognized for their efforts.

• Support an environment that fosters positive attitude, mutual respect and creative spirit of employees.

• Increase retention of employees by developing and maintaining a competitive total-comp philosophy.



Software Integration Services Inc., is dedicated to providing the highest quality of customer service. Service, that is delivered with a sense of warmth, friendliness, timeliness and is cost effective.

Our goal is to continually strive for excellence and seek to improve the workplace through innovation, education, teamwork and open communication.



Open Position:
Job # MUB1010
Business Analyst, Jacksonville , FL and other client locations: Write functional specification for developments/enhancements. Execute configuration change. Create test plans, test scenarios, and perform UAT. Perform GAP analysis and JAD sessions. Prepare functional specifications and process flows. Involve in evolving specification of reports to technical consultants to generate new reports or modify existing ones. Perform database regression testing by writing and executing SQL Queries for ensuring data integrity. Duties entail working with Oracle 10g, SQL Server, QTP, SQL, VB Script, Visio, MS Project, Lotus Notes, Rational Suite, Agile, RUP, and Windows 2000/XP/Vista. Bachelors in Computer Science, MIS, CIS, Engineering (any field), Business, or related with five years of experience. Salary DOE. Email resume to hr@sisincorp.com or mail to Software Integration Services, 12130 Cedar Trace Drive S , Jacksonville , FL , 32246 .
Enterprise Integration Architect
This position involves extensive infrastructure design on multiple platforms, software development lifecycle and application implementation. Requires MS in Computer Science Engineering+1 year experience in software development with JAVA, C++, C, XML on platforms using Oracle 9.x and SQL server. BS+5 years of experience can be substituted for the MS requirement. Any combination of education and experience equal to a BS or MS degree would be acceptable. Position involves extensive travel to client sites around the country. Please send resume to Software Integration Services Inc. 12130 Cedar Trace Dr. S. Jacksonville, FL 32246
Operations Research Analyst
Job duties:
1)
Obtain necessary info from various sources including clients and work teams to define the problems and operational methods into coding concepts by drawing flow charts and writing sample demos in OOP languages (JAVA & C++) if necessary.
2)Analyze and research all information currently available on alternative courses of action to determine the optimal production & coding plans.
3)
Develop and deliver complex technical presentations to senior management and customers. May lead major program and/or design reviews and major proposal activities.
4)Analyze and review processing & programming schedules and production orders to help the senior management to make decisions concerning project requirements, staffing requirements, work procedures and duty assignments, while considering budgetary limitations and time constraints.
5)Coordinate with technical staffs on software production, processing, distribution and coding activities to detect & resolve production and processing problems.
6)Analyze production, quality control, maintenance, and other operational reports to develop and implement production tracking and quality control systems.
7)
Perform validation and testing of software to ensure adequacy and troubleshoot as necessary.
8)
Provide recommendations for implementations of new systems, procedures, or organizational changes, and prepare & maintain production reports.
Requirement: Master degree in Computer Science or closely related field.
Resume to: Software Integration Service, Inc. 12130 Cedar Trace Drive, Suite S, Jacksonville, FL 32246 Attn: HR

We have several openings for Software Engineers, Programmers, System Analysts, Systems Administrators, Database Administrators in the following areas :

Software Engineers/Programmers:
SAP (Technical & Functional), People Soft, Siebel, Java, VB, ASP, SQL, C++/VC++, PB, CORBA, E-Commerce, Lotus Notes.

Administrators:
Oracle, Sybase, MS SQLs Server, Unix, NT, MVS.

Process Automation Engineers:
Level I (PLC and Drives), Level II and Mathematical Model engineers with at least 5+ years experience is large steel plants.

We have openings both for our operations in the US as well as our offshore development center in India. We offer excellent compensation & benefits.


E-Mail your resumes to hr@sisincorp.com