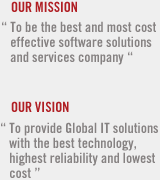 open systems, relational databases, distributed processing,object oriented windowing technologies, SAP, Process Control Automation for metals and other industries.

Our consulting services involve the comprehensive review and
analysis of selected aspects of our client's business by a team of sophisticated systems experts on a project management basis. Typically our company is staffed to complete an engagement.

Our people are experts in their field. Professionals who have gained their experience in their subject, gained over many years with companies of all sizes.

Our team of experienced consultants have been able to assist clients while minimizing the risk and maximizing system performance.

Our clients are in the Financial, Medical, Public Transport, Entertainment, Public School sectors and we have expertise in software development and process automation maintenance for Steel Mills, Power Plants, Cement Plants and other process industries.

Our multiple software development partner centers in India and associates in China, Dubai, Hong Kong, Singapore and Australia have an excellent track record and serve a world wide clientele. Our offshore development centers are equipped with state-of-the-art technologies, well structured methodologies, documented coding standards, and established proven processes for large scale, complex software development and systems integration.

We are totally committed and dedicated to the clients we serve and offer 24/7 support where needed. We value long term relationships and offer the highest quality and lowest costs to the customers.