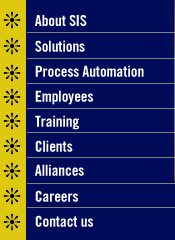 • Microsoft

• IBM

• SUN

• Cisco Systems

• Hewlett Packard

• SCO
• Citrix

• Maple Software LLC


SiS offers a wide range of IT/Process Automation solutions to meet today's complex business challenges. We have strategic alliances with technology vendors and system integrators. Through these partnerships we are able to deliver solutions to our customers.

SiS has partnered with many of the best of breed technology providers in these and other solution areas:

· Enterprise Resource Planning (ERP)
· Supply Chain Management (SCM)
· Customer Relationship Management (CRM)
· Data Warehousing and Business Intelligence
· Process Automation Control

While the alliance partner provides the software application, SiS offers professional services including business process consulting, systems integration, custom application development, content development, Training and other consulting and implementation expertise.

| | | | | |
| --- | --- | --- | --- | --- |
| | | | | |
| | | | Microsoft is a worldwide leader in software, services, and Internet technologies for personal and business computing. | |
| | | | --- | |
| | | | IBM is a leader in the creation, development and manufacture of some of the industry's most advanced information technologies, including computer systems, software, networking systems, storage devices and microelectronics. | |
---





Sun Microsystems is the leading maker of UNIX-based servers, workstation computers and a widening range of disk- and tape-based storage systems. Its software portfolio includes application server, office productivity, and network management applications.

---





Cisco Systems is a leading manufacturer of routers and switches. Cisco's switch line includes equipment based on Ethernet, Gigabit Ethernet, Token Ring, and ATM technologies. Other products include remote access servers, IP telephony equipment used to transmit data and voice communications over the same network, optical networking components, and network service and security systems.

---




HP is a leading global provider of products, technologies, solutions and services to consumers and business. The company's offerings span IT infrastructure, personal computing and access devices, global services, and imaging and printing.

---

The SCO Group (SCO) is a provider of software solutions for small- to medium-sized businesses (SMBs) and replicated branch offices. SCO solutions include UNIX platforms; messaging, authentication, and e-business tools; and services that include technical support, education, consulting, and solution provider support programs.

---

Citrix Systems Inc. the global player in enterprise access infrastructure, enables people to easily and securely access the on-demand enterprise, from anywhere, at any time, using any device, over any connection. The Citrix MetaFrame Access Suite, whose flagship product is MetaFrame server software, provides access to applications and information to nearly 50 Million people in 120,000 organizations worldwide.

---

Software Integration Services Inc and Maple Software LLC have entered into a strategic alliance/association to provide comprehensive IT solutions and Staffing services to our clients.
Logos are registered trademarks of the respective companies